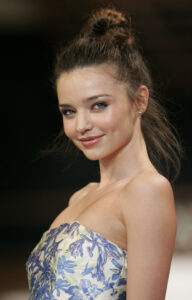 Real Name – Miranda May Kerr
Date Of Birth – April 20, 1983
Birthplace – Sydney, Australia
Net Worth – $60 Million US
Source Of Wealth: Model
Miranda Kerr is an Australian model and entrepreneur. She was born on April 20, 1983, in Sydney, Australia. Kerr began her modeling career at a young age, and quickly rose to prominence, becoming one of the most recognizable models in the world. She has graced the covers of numerous magazines, including Vogue, Harper's Bazaar, and Elle, and has been the face of brands such as Victoria's Secret, Levi's, and Calvin Klein.
Kerr is also known for her work as a spokesperson for environmental and health causes. She is a strong advocate for sustainability and has worked with organizations such as the Royal Botanic Garden, Sydney, to raise awareness about environmental issues. She is also a wellness enthusiast, and has published a book, "Treasure Yourself," about her health and wellness journey.
In addition to her modeling career, Kerr is an entrepreneur, with her own skincare line, KORA Organics, and has also launched her own fashion and lifestyle brand, Miranda Kerr for Royal Albert.
Kerr has been married to Snapchat CEO Evan Spiegel since 2017, and the couple has two children together. She was previously married to actor Orlando Bloom, with whom she has one son.
In conclusion, Miranda Kerr is a talented and accomplished model, entrepreneur, and spokesperson for various causes. She is widely regarded as one of the most beautiful and successful models in the world, and continues to be a role model and inspiration to women everywhere. With her drive and passion for health, wellness, and sustainability, Miranda Kerr is sure to continue making a positive impact in the world for many years to come.