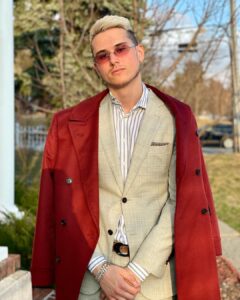 Nickname – Don Modus
Date Of Birth – December 31, 1997
Birthplace – New York, USA
Zodiac Sign – Capricorn
Source Of Wealth: Rapper
Hailing from Brooklyn, New York, Don Modus was born on December 31, 1997. He's a rising star in the world of hip hop, recognized for his skills as a recording artist, songwriter, athlete, and fashion designer. Growing up with a multicultural background, thanks to his Italian and Japanese parents, the rapper has been exposed to diverse lifestyles that have helped create a sound that's truly his own.
Being part of the thriving music community of New York City, Don Modus has a rich discography to be proud of. His previous releases include the 13-track album Instapound, and much-loved singles like "Peter Pan," "Clap For Me," "BOUT IT," "Kobe," and "Modus Man." His distinct ability to blend various rhyming styles and stay true to his own voice has made him stand out as one of the most exciting new voices in hip hop.
Focused on creating a brand that appeals to a broad range of audiences, this promising artist has already shared the stage with Casanova and emerged victorious in multiple rap showcases. His tracks have racked up over 100K streams on Spotify, thanks to his commitment to creating songs that are both unique and accessible. Not content to rest on his laurels, he's collaborated with producers like Dapp to push his sound even further.
Modus is a multi-talented individual, excelling not just as a recording artist, but also as the founder of his own clothing line, Collective. With a keen eye for design and a talent for screen printing, Don has been creating and releasing unique apparel for the past four years, successfully selling dozens of collections. He draws inspiration from other streetwear brands that prioritize bold graphics, allowing his own pieces to shine through with their stylish flair.
Don Modus finds inspiration in hip hop heavyweights like Future, Benny the Butcher, and Kanye West. He recently teamed up with San Diego's Iz Sosa for "East 2 West," the latest addition to his already impressive discography. Fans can look forward to more from the rising artist, including "Crocodile Tears," a track inspired by someone who fake cries to manipulate others.