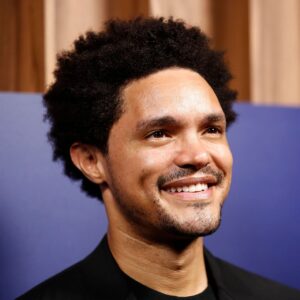 Real Name – Trevor Noah
Date Of Birth – February 20, 1984
Birthplace – Johannesburg, South Africa
Net Worth – $100 Million US
Source Of Wealth: Comedian, Writer, Producer, Host
Trevor Noah is a South African comedian, writer, producer, and television host. He was born on February 20, 1984 in Johannesburg, South Africa, and raised in Soweto during apartheid. Noah's unique background, growing up as a mixed-race child in a segregated society, has had a major impact on his comedic style and worldview.
Noah began his career as a comedian in South Africa, performing at local clubs and theaters. He quickly rose to prominence, winning several awards and becoming one of the country's most popular stand-up comedians. In 2011, he was selected to host a weekly late-night talk show, "The Daily Show with Trevor Noah," on the South African cable network M-Net.
In 2015, Noah was announced as the successor to Jon Stewart as host of "The Daily Show" on Comedy Central. He took over as host in September of that year, and has since become one of the most recognizable and influential voices in political comedy. Noah is known for his sharp wit, insightful commentary, and ability to bring a unique and often humorous perspective to current events and cultural topics.
In addition to his work on "The Daily Show," Noah has also written several books, including the memoir "Born a Crime: Stories from a South African Childhood," which was published in 2016. He has also appeared on numerous other television shows and in films, and has performed stand-up comedy around the world.
Noah's success as a comedian and television host has made him one of the most recognizable figures in popular culture, and he has been praised for his ability to bring humor and insight to serious issues. He has been named one of Time magazine's 100 most influential people, and has received numerous awards and honors for his contributions to comedy and media. Noah continues to be a leading voice in contemporary culture, using his platform to engage with audiences, challenge convention, and inspire change.