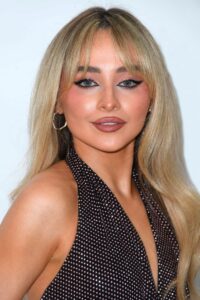 Real Name – Sabrina Annlynn Carpenter
Date Of Birth – May 11, 1999
Birthplace – Pennsylvania, United States
Net Worth – $4 Million US
Source Of Wealth: Actress, Singer
Sabrina Carpenter is an American singer, songwriter, and actress. She was born on May 11, 1999 in Lehigh Valley, Pennsylvania, and began her career in entertainment as a child actress.
Carpenter first rose to prominence as a Disney Channel star, with her role as Maya Hart in the series "Girl Meets World." She has since expanded her career to include music, with several popular albums and singles to her name, including "Can't Blame a Girl for Trying," "Why," and "Alien."
In addition to her work in music and television, Carpenter has also been active in film, with roles in "The Hate U Give" and "Horns." She is widely recognized for her versatility as a performer, and for her ability to bring emotion and depth to her characters.
Carpenter is also an advocate for mental health and self-care, speaking out about the importance of taking care of one's emotional and mental well-being. She is widely regarded as a role model for her fans, and is known for her honesty, her kindness, and her dedication to her craft.
In conclusion, Sabrina Carpenter is a talented performer who has made a lasting impact on the world of entertainment. Her music, her acting, and her advocacy have inspired and touched the lives of countless people, and her legacy will continue to endure for many years to come.