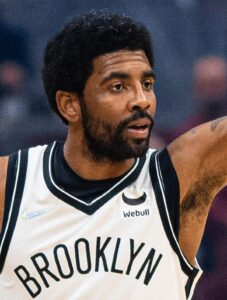 Real Name – Kyrie Andrew Irving
Date Of Birth – March 23, 1992
Birthplace – Melbourne, Australia
Net Worth – $90 Million US
Source Of Wealth: Basketball Player, Entrepreneur
Kyrie Irving is an American professional basketball player currently playing for the Brooklyn Nets of the NBA. He was born on March 23, 1992, in Melbourne, Australia. Irving played one season of college basketball at Duke University before being selected as the first overall pick by the Cleveland Cavaliers in the 2011 NBA Draft.
Irving quickly established himself as one of the top young point guards in the league, winning the NBA Rookie of the Year award in 2012. In his six seasons with the Cavaliers, he became a fan favorite and was instrumental in leading the team to its first ever NBA championship in 2016. In that historic NBA Finals, Irving hit the game-winning three-pointer in Game 7 to secure the championship for Cleveland.
After leaving Cleveland in 2017, Irving joined the Boston Celtics, where he played for two seasons. In 2019, he signed with the Brooklyn Nets, where he currently plays. Throughout his career, Irving has been known for his exceptional ball-handling skills, quickness, and scoring ability. He has been named to six All-Star teams, and has won an Olympic gold medal as a member of Team USA.
Off the court, Irving has become known for his activism and philanthropy. He has been outspoken on social and political issues, and has worked to make a positive impact in his community through various charitable initiatives.
In conclusion, Kyrie Irving is one of the most talented and dynamic players in the NBA today. He has had a successful career marked by individual and team success, and has used his platform to effect positive change. He continues to be one of the most exciting players to watch on the court, and is sure to be remembered as one of the greats of his generation.