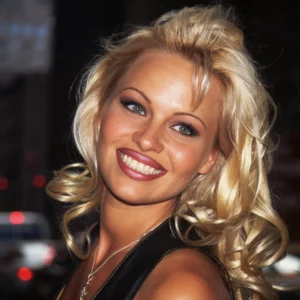 Real Name – Pamela Denise Anderson
Date Of Birth – July 1, 1967
Birthplace – Ladysmith, Canada
Net Worth – $20 Million US
Source Of Wealth: Actress, Model, Media Personality
Pamela Anderson is a Canadian actress, television personality, and model. She was born on July 1, 1967, in Ladysmith, British Columbia. Anderson first gained recognition as a cast member on the popular TV series "Baywatch," in which she played the role of lifeguard C.J. Parker. The show became a global phenomenon, making Anderson a household name and a sex symbol.
After "Baywatch," Anderson went on to star in several other TV shows and films, including "V.I.P." and "Stacked." She has also made numerous appearances on reality shows, including "Dancing with the Stars" and "Celebrity Big Brother." In addition to her acting career, Anderson has been a prominent figure in the modeling world, appearing on the cover of Playboy magazine multiple times.
Anderson is also known for her activism and philanthropy. She is a strong advocate for animal rights and has worked with organizations such as PETA to raise awareness about animal cruelty. Anderson has also been involved in disaster relief efforts, and has made donations to various charities and organizations to help those in need.
In conclusion, Pamela Anderson is a multi-talented performer and personality who has made a significant impact in the entertainment industry. She is best known for her role on "Baywatch," and for being one of the most recognized and popular models in the world. Despite her success, Anderson remains down-to-earth and dedicated to using her fame for good, making her a beloved and respected figure in popular culture.