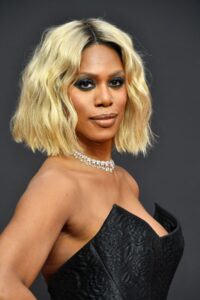 Real Name – Laverne Cox
Date Of Birth – May 29, 1972
Birthplace – Alabama, United States
Net Worth – $6 Million US
Source Of Wealth: Actress, LGBT Advocate
Laverne Cox is an American actress, producer, and LGBTQ+ advocate. She was born on May 29, 1972 in Mobile, Alabama, and raised in New York City. Cox first gained national recognition in 2013 for her role as Sophia Burset on the Netflix series "Orange is the New Black," which made her the first openly transgender person to be nominated for a Primetime Emmy Award in an acting category.
Cox's career in the entertainment industry has been characterized by her commitment to promoting LGBTQ+ rights and visibility, and her advocacy for the transgender community. She has been a vocal advocate for transgender rights, speaking out about the challenges faced by transgender individuals and the importance of promoting greater understanding and acceptance of the transgender community.
In addition to her work on "Orange is the New Black," Cox has appeared in a number of other television shows and films, including "Doubt," "The Mindy Project," and "Dear White People." She has also produced several documentaries, including "Free CeCe," which explores the story of CeCe McDonald, a transgender woman who was incarcerated for defending herself against a racist and transphobic attack.
Cox's activism and media visibility have made her one of the most prominent and influential transgender people in the world. She has been recognized with numerous awards and honors, including being named one of Time magazine's 100 most influential people in 2014. She continues to be an outspoken advocate for LGBTQ+ rights and equality, and her work has had a profound impact on public perception of the transgender community.
In conclusion, Laverne Cox is a talented actress, producer, and advocate who has dedicated her life to promoting equality and visibility for the LGBTQ+ community. She has shattered barriers and made history in her industry, and her impact on the world will continue to be felt for years to come.