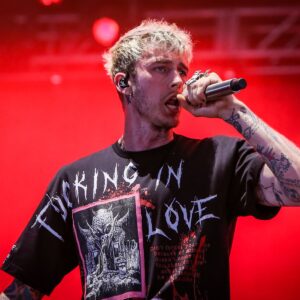 Real Name – Colson Baker
Date Of Birth – April 22, 1990
Birthplace – Texas, US
Net Worth – $25 Million US
Source Of Wealth: Singer, Model
Machine Gun Kelly (MGK) is an American rapper, singer, and actor. He was born Richard Colson Baker on April 22, 1990 in Houston, Texas. He grew up in Cleveland, Ohio, where he first developed an interest in music and began performing as a teenager. In 2006, he adopted the stage name Machine Gun Kelly, a reference to notorious gangster George Machine Gun Kelly.
MGK first gained national recognition with the release of his mixtape "Stamp of Approval" in 2006. He continued to release mixtapes and mix CDs over the next several years, attracting a growing fanbase and critical acclaim. In 2011, he signed with Bad Boy Records and released his first full-length album, "Lace Up." The album was well received and established MGK as one of the most promising young rappers in the game.
Since then, MGK has continued to release successful albums and mixtapes, and has collaborated with a wide range of artists and producers, including Eminem, Dubxx, and Sean Don. He has also toured extensively, performing in front of large crowds across the United States and around the world.
In addition to his music career, MGK has also acted in several films and television shows, including "Nerve," "Roadies," and "Birdbox." He has also been a vocal advocate for mental health awareness, and has spoken out about his own struggles with depression and addiction.
MGK's unique style, blending punk rock and hip hop, has made him one of the most distinctive and influential artists of his generation. His music is characterized by his fast-paced, energetic flow, powerful lyrics, and raw, emotional delivery. He is widely regarded as one of the most talented and innovative rappers of his time, and continues to be a major force in the music industry today.